Dashboard Explanation
– Repeater Dashboard.
– HotSpot Dashboard.
Last Heard.

This Window shows the  Last Heard.
You can see what each section displays and easy to follow.
* Name See info bottom of page.
Linked Hotsopts or Repeaters.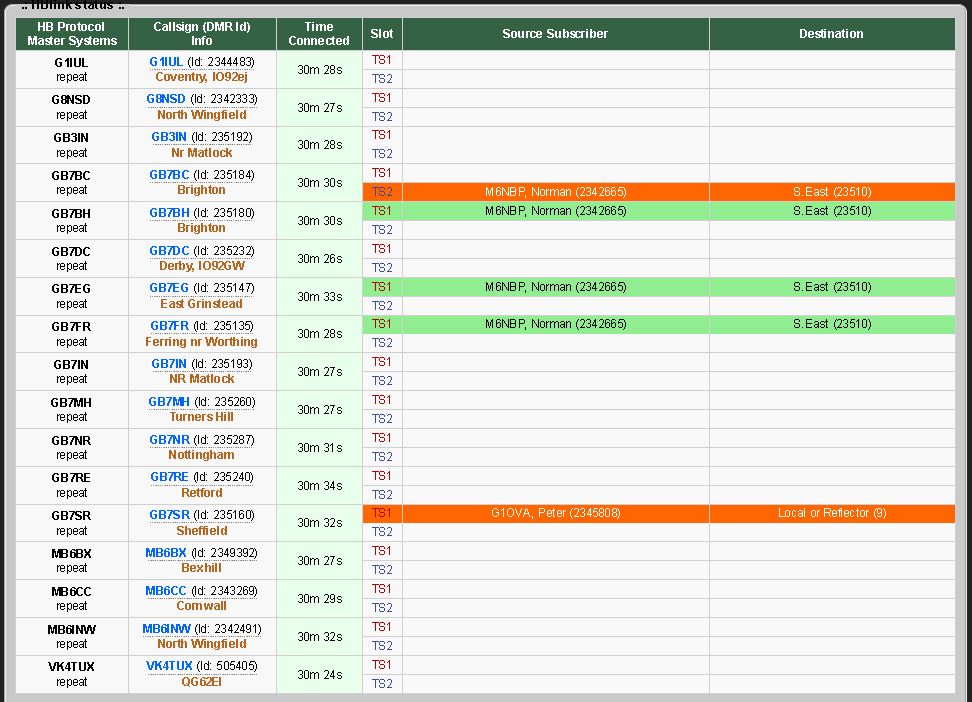 This Window shows many things.
1. Callsign (DMR ID) Info – Shows what Repeater or Hotspot is live on FreeDMR UK.
If your Hotspot shows on the Hotspot Dashboard you have connected successfully.
2. The rest I think we can skip over.
Orange Bar – This shows someone is TXing and what Talk Group is being used, (23510)
Green Bar – This shows that the Repeater or Hotspot is RXing that Talk Group, (23510)
Static Talk Groups.

Shows what Talk Groups is set as Static on each Repeater for each Slot.
* Name.
This is the site we use to get your First name, Callsign, ID from.
https://www.radioid.net.
FreeDMR UK only uses the info under First Name, Callsign, ID.
We update the Data Base around every 30 days.
Keep your Information up to date on.
https://www.radioid.net.
Name.
Callsign.
City.
State.
County.
For more Information/Connecting to FreeDMR UK have a look at How To –