Repeater/Gateway – How to join
Motorola, Hytera, MMDVM/Pi-Star Repeaters are all Welcome to join.
Step 1.
Please join this Group on Telegram and make yourself known to us.
FreeDMR Repeater Keepers
Download Telegram.
Step 2.
Motorola and Hytera Repeater Only.
Post that you wish to join FreeDMR UK, along with your Repeater Callsign and the Type of Repeater it is. "Moto or Hytera."
An Admin will get back to you.
Step 3 – MMDVM or Pi-Star Repeaters (6 Dig ID).
Only Repeater 6 DIG IDs can use the setting below.
Gateways 7 DIG IDs join as Hotspot or contact us to be listed under Repeaters.

It is recommended you use DMR GW
Configuration page set to DMR Gateway and then click on apply.


Nothing else in this section is required.
Then via "Configuration – Expert –  Full Edit:  DMR GW"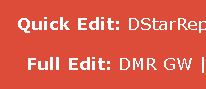 Swap out [DMR Network 1] below.
Option 1.  (All Talk Groups on both Slots)
[DMR Network 1]
Enabled=1
Name=FreeDMR UK
Address=repeater.uk.freedmr.link
Port=62031
TGRewrite0=2,9,2,9,1
PassAllPC0=1
PassAllPC1=2
PassAllTG0=1
PassAllTG1=2
Password=passw0rd
Debug=0
Id=
Options=   (See this link to set DMR Options : Static Talk Groups)
Location=0
If running more than one network. You will need to rewrite your own rules for Dial-a-TG and Talk Groups.

Now click on apply.
From now on you make all changes in Full Edit:  DMR GW.
DO NOT use the Configuration or the Quick Edit DMR GW to make changes.


Option 2. (We recommend for repeaters)
Slot 1,   Local only via TG9.
Slot 2,   Dial-a-TG via TG9 only.
For full info on Repeater Simple Mode, click this link.
Option 3.
Edit the mmdvmhost file
rpi-rw
sudo su
nano /etc/mmdvmhost
Address=repeater.uk.freedmr.link
Password=passw0rd
Id=
Options=
Keep in mind, if you run Pi-Star update, you will have to redo the above settings.
Step 4
That is you all set-up on FreeDMR UK