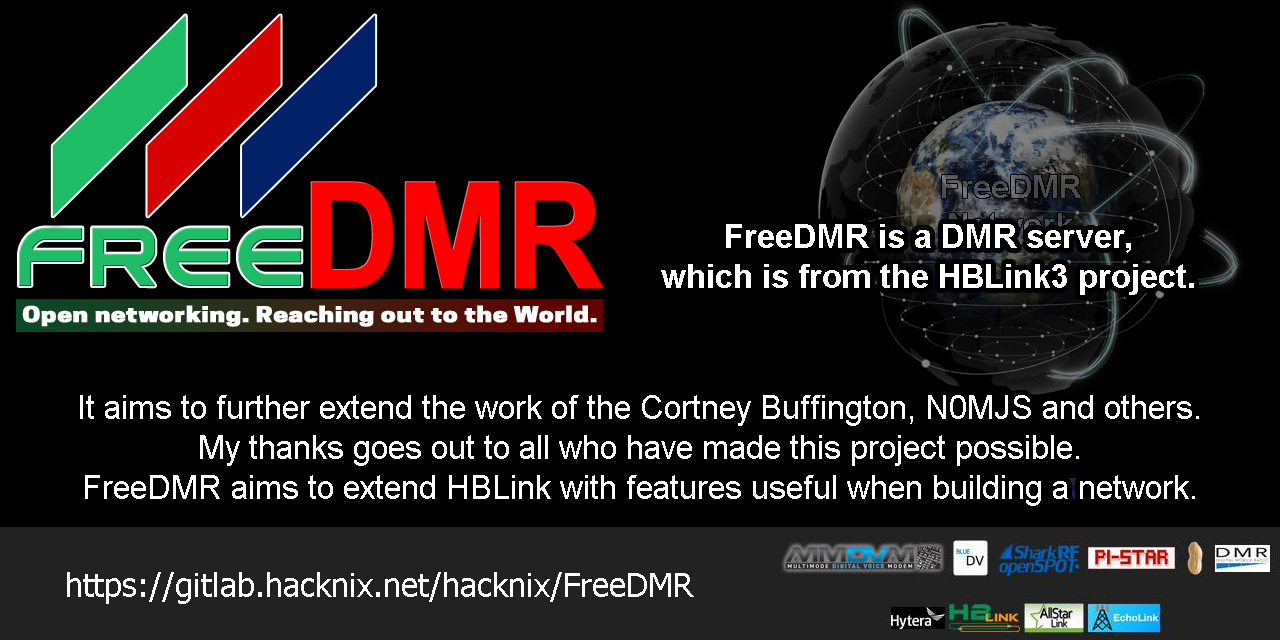 Installing a FreeDMR Server.
See if your country has one first.
1. Gitlab Install page.
Installing using Docker – Recommended!
Also Read – FreeDMR. – Wiki Home. – Hotspot Proxy. – Installation guide. – Making PEER connections. – Connecting to the network. – IPv6 support. – FreeDMR to a YSF reflector. – Motorola TRBO repeater to FreeDMR. –
This section might help. -

A PDF of Simon going over some of the settings via the Telegram group.
Taken from chat history 24th Feb 2021 @ 20:20.

Host Hotspot / Repeater Password.   Should I use passw0rd or PASSWORD.


HBMonv2 Dashboard.  -  If running more than 3 OPB/Bridges. Run Dashboard on a 2nd Server.

Dashboard Auto Updates.  -  Dashboard Extras 1.  -  Dashboard Extras 2.


MMDVM_Bridge example YSF to FreeDMR.PDF.  -  How to create an XLX D-Star or DMR or YSF Reflector.
(Ambe sticks not required for YSF to DMR just D-Star.)
ysf2dmr_overview.doc

Bridging-Cross-mode, multi mode or analogue etc.

Some Rules for OPB.  -  Loop Control.


Downloads.


2. Join

the community!

!
Our group for system builders can be found here:
FreeDMR system building a Server – Support Group
This group is for all Help and Questions on setting up your FreeDMR Server.
3.

What

is Full OpenBridge?
Quick explanation – Read this page also.
Full OpenBridge gives you all the Talk Groups without adding one by one.
World Wide Talk Group
You can still bridge to whatever you want as an independent server.
AllStar, Echolink, HBlink, XLX, YSF, Peanut etc.
If you do add any Bridges.
All via Full OpenBridge have access to that Talk Group and Bridge.
To request an OpenBridge, do it via this group.
FreeDMR system building a Server – Support Group
You can OpenBridge to any server on this list.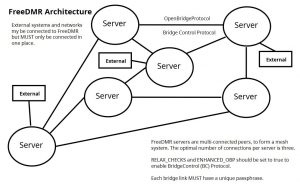 FreeDMR Architecture PDF.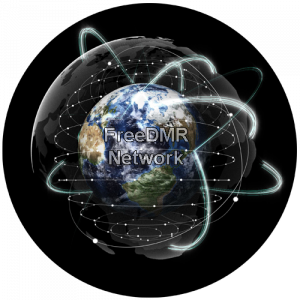 Ideally you should have up to 3 OpenBridges.
---
---
Join the FreeDMR Network.
What is the FreeDMR Network.
It is made up of Independent Servers running FreeDMR Server.
They have OpenBridged "OPB" to each other to make up the FreeDMR Network.
Neither Master nor Slave :-
FreeDMR is a peer server. All FreeDMR systems are equal, just like all of the individuals who run them. We do not use the terms master and slave. We do not control when where, what how or who can use our software. Free means free as in speech and free as in beer.
"FreeDMR Network" is for Ham Radio users only.
You will need a valid DMR ID number to use the FreeDMR Network.
You can get your DMR ID number from this link.
You will need a copy of your Ham Radio Licence to get a DMR ID number.
A. To get listed to Pi-Star, Bluedv, openspot etc.

When you have Connected/OpenBridged to FreeDMR.
Please supply your Sever/Host info.
The info will be added to this Host Data Base.
Pi-Star, BlueDV, OpenSpot etc will pull from this Data Base.
If your sever information is wrong or changes, please let us know.
Hotspots and Repeaters on same Port.
Hotspots only.
Repeaters connection information should be done via your Website.
See this page for more info and how others have setup.
Hostnames.
Make sure you Hostname is always up to date.
I use this site to check Hostnames.
B. Talk Groups.
When you have connected to FreeDMR Network and worked out your talk groups.
Talk Group Numbers – Talk Group Names.
Please supply your Talk Group list via the form.
They will be added to this World Wide Talk Group list.
FreeDMR Network Talk Group Allocation.
This is the Json file for Last Heard used on the UK Dashboard.
talkgroup_ids.json  download.

C. FreeDMR World wide Server List.
To be added to this FreeDMR server list.
Please supply the information you want listed via the form.
Website, Dashboard, Facebook, Telegram  etc.
D. Banners.
Ask in this Group if you want a Country banner made by José Melo.
Or request via the form by saying YES.
FreeDMR system building a Server – Support Group
A small range of banners can be seen on this link.
E. Bridge IDs
f. Build Website like UK.
This is the best support I can offer for building a Website.
I am sure you can use parts of this to help build your own Website.
Build Website like UK.
When I was handed the website a while ago. I new nothing about WordPress and thanks to Goggle and long nights. I managed to sort/finish the UK site.